Liquid Handling Robots are helping laboratories and scientists save time and resources. This blog-post features some of the popular liquid handling robots that can be integrated with the TesalaGen software.
For those of us who have worked in a biology lab, we all know how intensive, monotonous and plain boring pipetting can be. We have seen the memes, and know that even playing music while we engage in this ordeal isn't helpful.
Now Imagine that at the scale of an industrial setup where (if we speak modestly) you have hundreds of vials of material, and you have to manually transfer mL of each to an assay plate, and it's just you, your tips and the pipette against the wells. Keep in mind that in this scenario the volume and the compound are the same, and hence it doesn't matter which well they go in. BUT! In most times not the case.
Now should you turn on the panic button or should you turn on let's say a liquid handling robot that does all that for you? The latter obviously.
Without a doubt one of the biggest challenges today's laboratories and lab staff face is ensuring the accuracy and repeatability of assays. In settings that require higher throughput levels and industrial scale workflows, manual pipetting methods can be time-consuming and prone to procedural errors. Whenever you need to pipette, prepare, transfer accurately, or mix liquid samples for an assay, an automated liquid handling robot can often produce better results while freeing up your laboratory resources to focus on analysis and research tasks.
What are automated liquid handling robots?
Automated Liquid Handling Robots are robots used in Biological laboratories which perform a number of liquid handling tasks that are otherwise done manually. Typically liquid handling robots are used for pipetting, sample preparation, and microplate washing.
They help you minimize human error, increase precision and accuracy, and speed up a lab workflow. They are successfully being used to automate a variety of workflows, as diverse as sample preparation for PCR or mass spectrometry; DNA extraction for subsequent analysis such as next-generation sequencing (NGS); and performing cell-based assays or ELISAs for drug screening.
Let's take a look at some of the best liquid handling robots that you can get your "hands" on:
Tecan Freedom Evo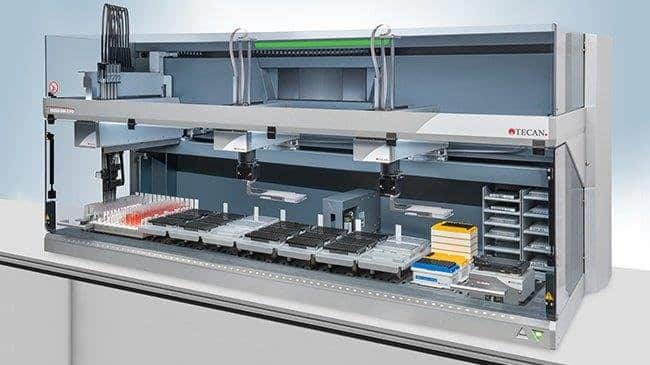 The Tecan Freedom Evo series offers 4 different worktable capacities ranging from 27, 30, 45 and up to 69 grids. These upgradable robots can be used for small life sciences labs or medium to high throughput research and diagnostic laboratories. The series offers multiple robotics workstations with advanced liquid handling capabilities, system reliability and the ability to customize through choice of application, scalability. You can even choose to combine air and liquid displacement as pipetting technology for your on a single workstation.
Generating Tecan Worklist Format on TeselaGen
Biomek 4000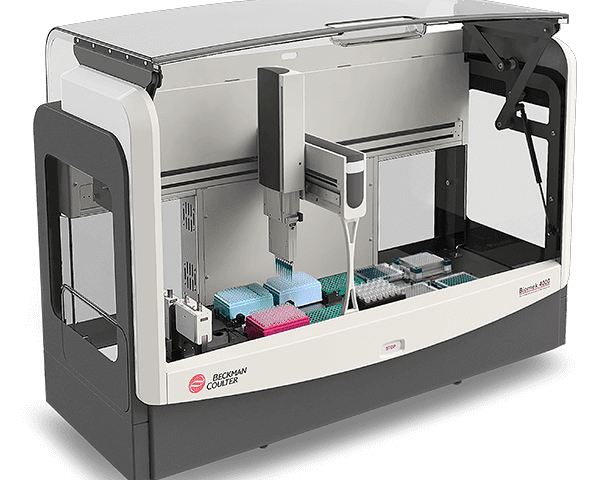 The Biomek 4000 liquid handler is designed for small scale labs and those that are adopting automation for the first time. It comes with a flexible deck space with up-to 12 positions optimized for critical labware, such as 96 well plates, and a more efficient workflow. Moreover, it has 4 additional off-deck mounts that increase capacity and allow on-deck integration of thermocyclers, shakers and waste disposal. Integrated tools provide a dynamic pipetting range of 1 to 1000 microliters while offering flexibility of single or 8-channel pipetting.
Generating Biomek Worklist Format on TeselaGen
epMotion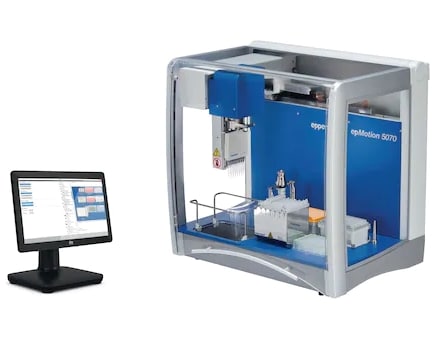 The epMotion comes with an optical sensor that will inspect the protocol and deck, the scan will detect the starting volume of reagents on the deck and ensure that correct labware is present on the deck. Its pipetting technology is built on prison-stroke pipettes by Epenndorf and hence makes it convenient for users to move their protocols from their manual workflow to automated one. The modular rack can accommodate tips, reagents and consumables to free up deck capacity. You can run full protocols without user-intervention and get automated processing for up to 96 samples.
Generating epMotion Worklist Format on TeselaGen
Echo 650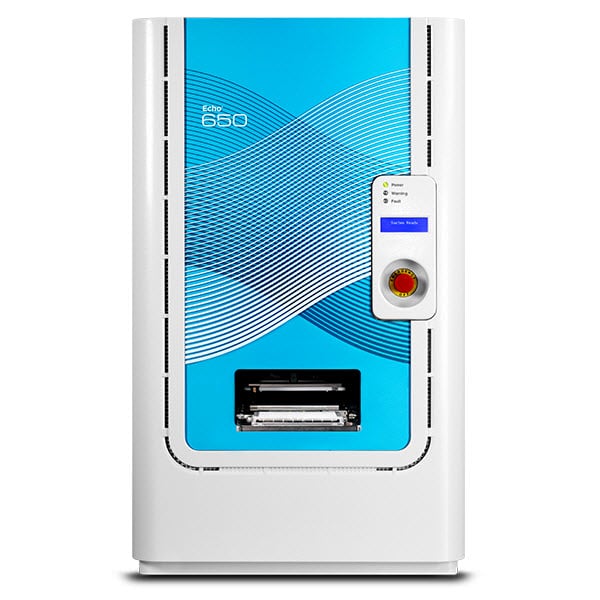 The Echo series uses the acoustic liquid handling technology which removes the possibility of cross-contamination that may arise during the transfer of materials and eliminates both cost and waste associated with disposable tips. The technology allows you to transfer your materials at the scale of nanoliters, as low as 2.5nL. The liquid handling robot has a compact and ergonomic design with docking modules, turntables, retractable shelves, and drawers.
Generating Echo Worklist Format on TeselaGen
Microlab STAR by Hamilton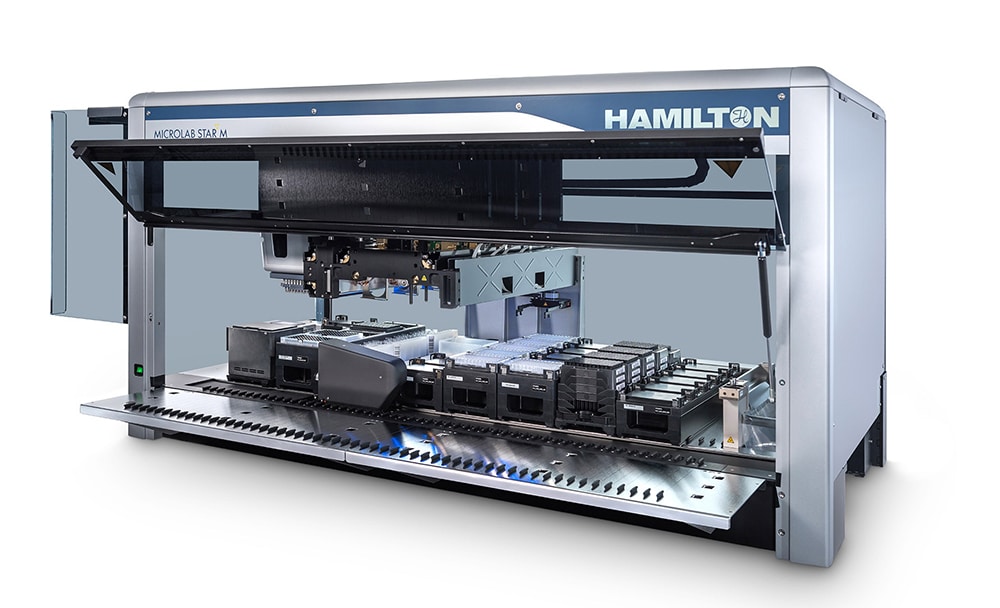 The Microlab STAR comes in 3 different platform sizes. It uses air displacement pipetting, a patented lock-and-key design called CO-RE (Compressed O-Ring Expansion) and optional anti-droplet control and liquid level detection technologies to ensure the superior measurement accuracy during liquid handling steps. This also allows users to work with sub-microliter to large volumes. The Microlab STAR robot can also integrate a camera, tube transportation, and other channel tools on a single arm. Its modular carrier provides greater space and configuration ability allowing the deck to accommodate up to 5 microplates or 32 tube positions, all within the range of pipetting channels.
Generating Hamilton Worklist Format on TeselaGen
The TeselaGen software not only supports all these lab-automation/ liquid handling robots, but also many more such as QPix, Mosquito, Flowbot and PipetMax.
We are actively working on integration of more liquid handling robots with the TeselaGen software. You can also take a look at our brochure on Lab Automation to see how TeselaGen can help automate your lab.