What are plasmids? Plasmids are a crucial tool for molecular cloning in genetic engineering. They are small, circular, double-stranded DNA molecules that can replicate independently within bacterial cells. Plasmids can be modified with a variety of genetic elements, making them versatile vehicles for gene expression, protein production, and more. In this article, we will discuss five popular plasmids that are commonly used in molecular cloning.
5 popular plasmids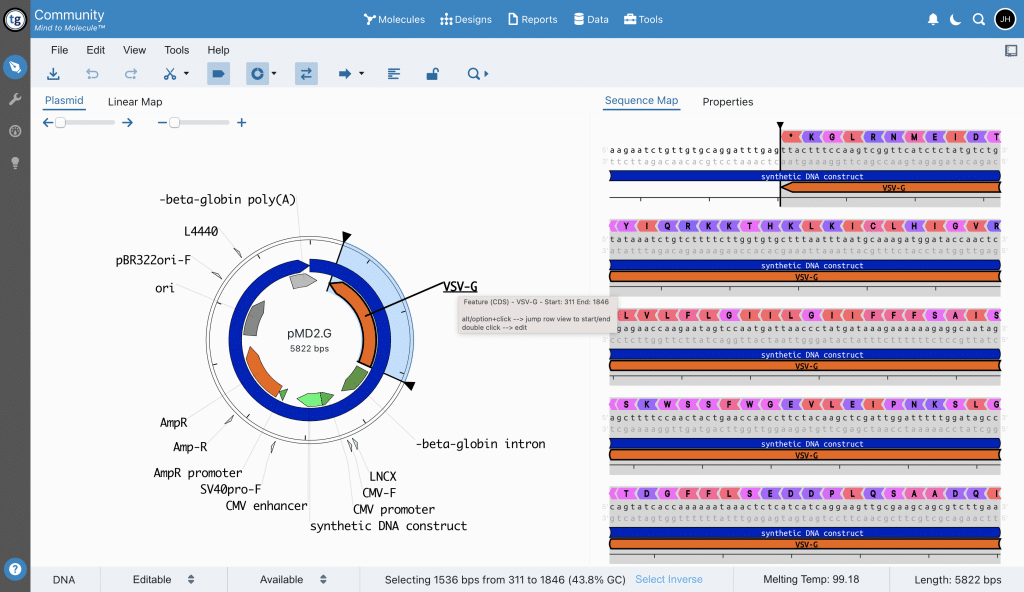 TeselaGen is a platform that offers a comprehensive solution for molecular cloning. It is compatible with all of the plasmids discussed in this article and provides automatic assembly instructions, including the primer and PCR sequences needed. TeselaGen supports various cloning methods, such as infusion cloning and Golden Gate assembly, making molecular cloning easier and more efficient.
| | | | | | | |
| --- | --- | --- | --- | --- | --- | --- |
| Plasmid Name | Length (bp) | Resistance | Expression System | Vendor | GenBank File | Summary |
| pMD2 G | 5,822 | Ampicillin | CMV promoter | Addgene | Addgene: pMD2.G Sequences | High-efficiency expression vector commonly used for mammalian cell transfection. |
| pUC57 | 2,710 | Ampicillin | N/A | GenScript | Cloning vector pUC57, complete sequence | Cloning vector that is widely used for subcloning and sequence verification and commonly used in E. coli. |
| pET15b | 5,708 | Ampicillin | T7 promoter | Merck Millipore | pET15b | Popular expression vector used for protein purification. |
| pET22b | 5,493 | Ampicillin | T7 promoter | Merck Millipore | pET22b (Not annotated) | Popular plasmid for protein expression in E. coli. |
| pET28a | 5,369 | Kanamycin | T7 promoter | Merck Millipore | pET-28 a (+) | High-level expression vector used for recombinant protein production in E. coli. |
Summary table of listed plasmids
It's important to note that there may be variations in the attributes of these plasmids depending on the specific version or source obtained from vendors. Therefore, it's always recommended to double-check the specifications of each plasmid before purchasing or using it.
As mentioned in the article, TeselaGen's platform allows the use of all of these plasmids (and more) and can generate assembly instructions automatically for users, including primer and PCR design for different cloning methods such as In-Fusion cloning (sometimes incorrectly spelled as infusion cloning), Gibson assembly and Golden Gate. This can greatly simplify and accelerate the process of designing and cloning DNA constructs for research and industrial purposes.
To learn more about how TeselaGen's platform powers DNA design and engineering visit TeselaGen's DNA Design site, if you want to start designing DNA efficiently right away for free try TeselaGen's Community Edition and for everything else check TeselaGen's main site!